Sponsor a Kiddush at ASKT
Sponsor a Kiddush at ASKT
For a Basic Kiddush ($375.00)
Contact: asktshul@gmail.com
In order to sponsor a kiddush: Please, let us know:
The date you are looking to sponsor (below is a list of all available dates)
Do you want a pareve, meat, or dairy kiddush?
Let us know which 2 salads, which protein, which side, which hot dish, which type of chips, which type of beverage and which dessert you would like. Or do you have a replacement that you would prefer instead of one of the suggestions listed below?
Do you want any add-ons?
Do you have a specific recipe that you would like used?
Does anyone in your family / your guests have any allergies that we need to be aware of?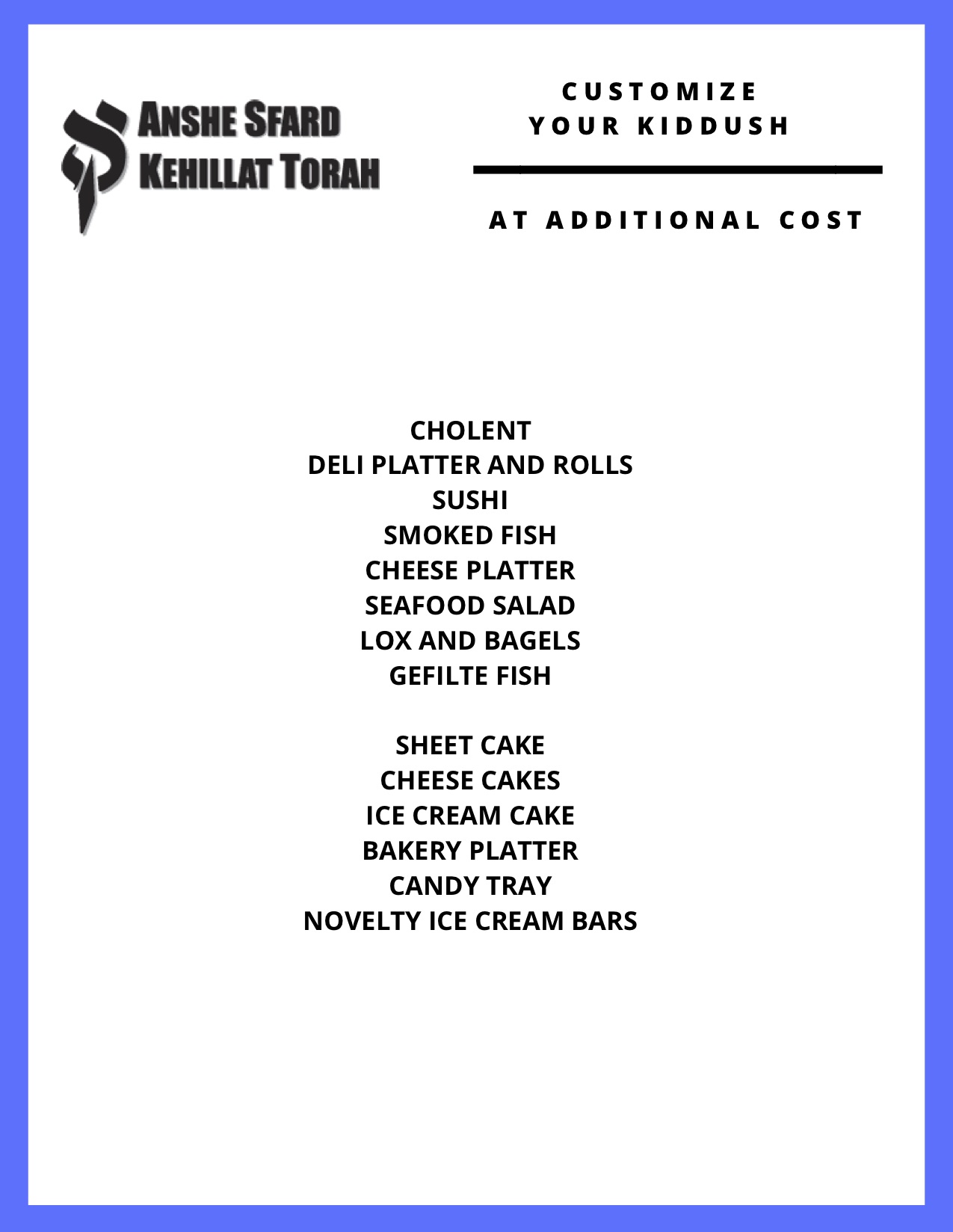 Kiddush Dates 2019-2020 (5780-5781)
Please email: asktshul@gmail.com to let us know which date you would like to reserve!
ASKT Kiddush Sponsorships 5780 - 5781

Date of Kiddush

Special Day

Sponsor of Kiddush

11/16/19

Ashley Blaker - Shabbat MKE

11/23/19

Harriet and Jerry Dorf

11/30/19

Thanksgiving weekend

12/7/19

Yeshiva University Fellows in town

Travis and Yael Gaines

12/14/19

Bar mitzvah of Dovi Karan

Akiva and Elana Karan

12/21/19

Bob Rabinoff

12/28/19

Chanukah Day 7
Date of Kiddush

Special Day

Sponsor of Kiddush

Sponsoring in honor / in memory of

1/4/2020

Melissa Pachon Tepper and David Tepper

1/11/2020

Bar Mitzvah of Yosef Gaines

Travis and Yael Gaines

1/18/2020

1/25/2020

Yeshiva University Fellows in town

2/1/2020

2/8/2020

2/15/2020

Dan Carriger, Bob Rabinoff, by David and Melissa Pachon Tepper, and by Carl Crawford and Hara Levy

2/22/2020

Yeshiva University Fellows in town

2/29/2020

Deborah Kalmar

3/7/2020

Shabbat Zachor

3/14/2020

Shabbat Parah

3/21/2020

Shabbat HaChodesh

3/28/2020

Yeshiva University Fellows in town

4/4/2020

Shabbat HaGadol

4/11/2020

Pesach Day 3

4/18/2020

4/25/2020

Rosh Chodesh Iyyar

Judy and Steve Baruch

5/2/2020

5/9/2020

Mother's Day Weekend

Communal Sponsors Requested

5/16/2020

5/23/2020

Memorial Day Weekend

5/30/2020

Shavuot Day 2 / Yeshiva University Fellows in town

6/6/2020

Graduation Kiddush (?)

Communal Sponsors Requested

6/13/2020

6/20/2020

Father's Day Weekend

Communal Sponsors Requested

6/27/2020

7/4/2020

4th of July

7/11/2020

7/18/2020

7/25/2020

Shabbat Chazon

8/1/2020

Shabbat Nachamu

8/8/2020

8/15/2020

8/22/2020

8/29/2020

9/5/2020

Labor Day Weekend

9/12/2020

Leil Selichot
Bar Mitzvah of Martin Kalmar

Rabbi Wes and Jessica Kalmar

9/19/2020

Rosh HaShanah Day 1

9/26/2020

Shabbat Shuva

10/3/2020

Sukkot Day 1

10/10/2020

Shemini Atzeret

10/17/2020

10/24/2020

10/31/2020

11/7/2020

11/14/2020

11/21/2020

11/28/2020

12/5/2020

12/12/2020

Chanukah Day 3

12/19/2020

12/26/2020
Sun, April 11 2021
29 Nisan 5781
Today's Sefirah Count Is 14
היום ארבעה עשר יום שהם שני שבועות לעמר
Today's Calendar
Amud Yomi

: 7:30a
Shacharit

: 8:00a
---
Tomorrow's Calendar
---
Friday Night
Mincha

: 7:00p
Candle Lighting

: 7:16p
Shabbat Day
Amud Yomi

: 8:30a
Shacharit

: 9:00a
Mincha

: 7:15p
Havdalah

: 8:19p
Upcoming Programs & Events
---
This week's Torah portion is

Parshat Tazria-Metzora
Candle Lighting
Havdalah
Motzei Shabbat, Apr 17, 8:19p
Rosh Chodesh Iyyar
View Calendar
Sun, April 11 2021 29 Nisan 5781