Sponsor a Kiddush at ASKT
Sponsor a Kiddush at ASKT
For a Basic Kiddush ($375.00)
Contact: asktshul@gmail.com
In order to sponsor a kiddush: Please, let us know:
The date you are looking to sponsor
Do you want a pareve, meat, or dairy kiddush?
Let us know which 2 salads, which protein, which side, which hot dish, which type of chips, which type of beverage and which dessert you would like. Or do you have a replacement that you would prefer instead of one of the suggestions listed below?
Do you want any add-ons?
Do you have a specific recipe that you would like used?
Does anyone in your family / your guests have any allergies that we need to be aware of?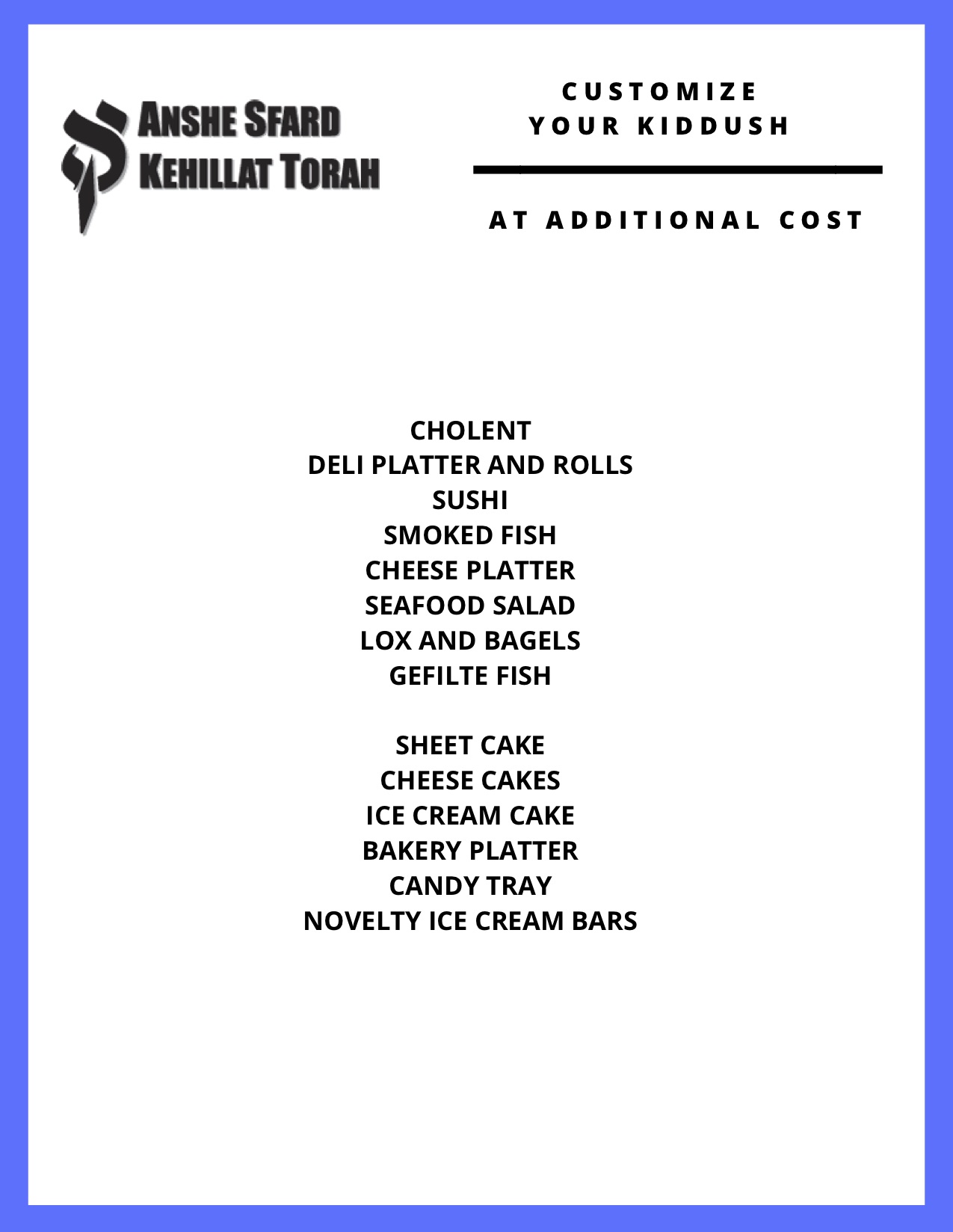 Tue, September 17 2019
17 Elul 5779
Today's Calendar
Amud Yomi

: 6:15a
Shacharit

: 6:45a
Mincha/Maariv

: 6:45p
---
Tomorrow's Calendar
Amud Yomi

: 6:15a
Shacharit

: 6:45a
Mincha/Maariv

: 6:45p
---
Friday Night
Candle Lighting

: 6:34p
Mincha

: 6:40p
Shabbat Day
Amud Yomi

: 8:30a
Shacharit

: 9:00a
Mincha

: 6:30p
Havdalah

: 7:34p
This week's Torah portion is

Parshat Ki Tavo
Candle Lighting
Havdalah
Motzei Shabbat, Sep 21, 7:34p
Erev Rosh Hashana
View Calendar
Tue, September 17 2019 17 Elul 5779