2018 Past Events
Guest Lecture Dr. Michelle Shain, Associate Research Scientist at the Cohen Center for Modern Jewish Studies, Brandeis University (& daughter of Phyllis Robbins) spoke on "What Students Say: Antisemitism and Anti-Israel Hostility on Campus" Tues., Dec.11th
ASKT Chanukah Party - December 2, 2018
ASKT Bucket Raffle - November 18, 2018
October 28, 2018 - Flag Football
September 1, 2018 - Selichot
Annual End of Summer Barbecue Picnic - August 19, 2018
June 25, 2018 - Golf Outing and Steak Dinner
Annual ASKT Tailgate and Brewer's Game - May 27, 2018
Annual Event - May 15, 2018
Yom Ha'Atzmaut - April, 19, 2018
March 1, 2018 - Purim Seudah
2017 Past Events
December 17, 2017 - Chanukah Bash
September 10, 2017 - Annual Picnic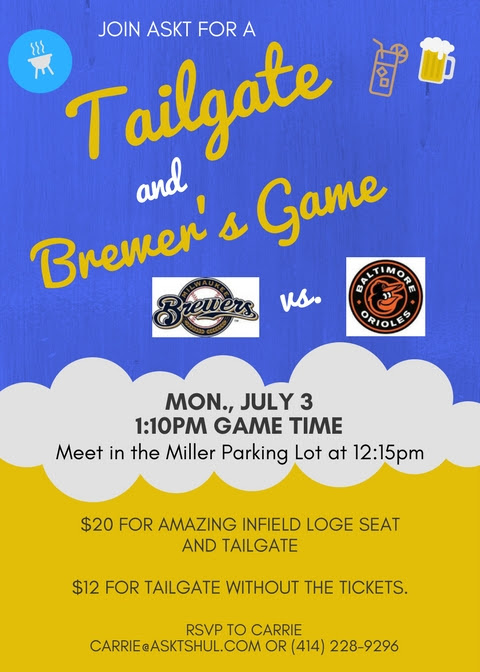 July 3, 2017 - Tailgate and Brewer's Game
June 11, 2017 - Annual Event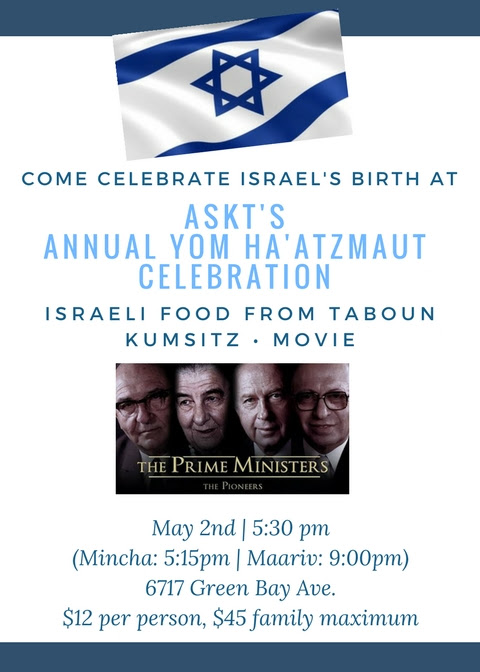 May 2, 2017 - Yom Ha'atzmaut Celebration
March 12, 2017 - Purim Seudah
March 11, 2017 - Purim Night
February 10, 2017 - Tu B'shevat Seder
2016 Past Events
December 26, 2016 - Chanukah Party
Dec. 23rd: Friday Night Oneg: ASKT TV (Torah Viewpoint): We will be discussing the Torah View of Technology.
Tues., Dec. 13th, 2016 - Next Israel Book Review Book: Self Portrait of a Hero - the Letters of Jonathan Netanyahu.
Shabbat, Nov. 5, 2016 - Abraham will give a lecture at ASKT about "The Unique Role of Kes Leadership and the Jewish Ethiopian Woman of the Past and Today" Abraham Meleses. Abraham was born in Ethiopia in 1967 and made aliyah in 1991 and currently lives in Hodayot, Israel. He was a school director in Ethiopia and an English and Amharic (his native language) teacher in various colleges and Yeshivot in Israel. Abraham is visiting us as part of the Milwaukee Jewish Federation's Partnership Together program's cultural diversity week and he is a member of the delegation from the Sovev Kinneret region.
October 5, 2016 - Movie Night at the Milwaukee Film Festival
September 18, 2016 - Picnic
September 7, 2016 - Israel Book review series: first book Operation Thunderbolt: Flight 139 and the Raid on Entebbe Airport, the Most Audacious Hostage Rescue Mission in History by Saul David
June 26, 2016 - Tailgate
Friday, June 3rd, 2016 - Annual Event
Celebrating Our Past and Looking Ahead Toward Our Future
Enhanced Kabbalat Shabbat Services
Dinner & Program Featuring D'vrei Torah and lively interactive discussions
with Rabbis Levine and Kalmar
May 12, 2016 - Yom Ha'atzmaut Celebration and Seudah with Israeli food from Taboun and Israeli music from Ilan Eckhardt and his band "Nishma"
March 24, 2016 - Purim Seudah
March 23, 2016 - Purim Night
2015 Past Events
December 24, 2015 - Pizza and bowling
December 6, 2015 - Pre Chanukah Party
December 4 - December 5, 2015 - Scholar in Residence: Rabbi Dr. David Katz
November 7, 2015 - Movie Night
November 3, 2015 - Guest Speaker
October 25, 2015 - Flag Football and Hot Dog Lunch
September 5, 2015 - Selichot
August 16, 2015 - ASKT Annual Picnic BBQ
July, 22, 2015 - Memory without Memorials: The Story of Babi Yar. With Dr. Shay Pilnik Executive Director, Nathan and Esther Pelz Holocaust Education Resource Center
July 13, 2015 - Body and Soul - the documentary This film is a comprehensive examination of the broad and deep connection of the Jewish People and the Land of Israel.
May 23 - 25, 2015 - Shavuot
May 17, 2015 - Annual Event
April 23, 2015 - Yom Ha'atzmaut Celebration
April 3, 2015 - Communal Chametz Burning
March 5, 2015 - Purim Seudah
February 16, 2015 - Torah on Tap (For Men Only)
2014 Past Events
December 24, 2014 - Pizza and Bowling
December 20, 2014 - Chanukah Party
Two Part Series - Shemittah and the Great Heter Mechirah Controversy - The Battle for the Soul/Sale of Israel, Rabbi Kalmar
November 20, 2014 - Two Part Series - Shemittah and the Great Heter Mechirah Controversy
October 13, 2014 - Sukkot Soiree - Simchat Beit HaShoeiva
March 16, 2014 - Purim Seudah
February 24, 2014 - Torah on Tap
February 8, 2014 - Game Night
January 17, 2014 - Tu b'shevat Seder / Meal
2013 Past Events
December 24, 2013 - Pizza and bowling
December 10, 2013 - Torah on Tap
December 4, 2013 - Chanukah Party
November 3, 2013 - Flag Football
October 27, 2013 - Lucky Break Concert
October 28, 2013 - Adventure into Bereishit 4 Part Parsha Series
September 26, 2013 - Simchat Torah
August 31, 2013 - Selichot
August 18, 2013 - Annual End of Summer Picnic BBQ
click here to watch a video of the 2013 Picnic BBQ
May 14, 2013 - Shavuot
April 16, 2013 - Yom Ha'atzmaut Seudah
February 24, 2013 - Purim Seudah
Tue, February 19 2019
14 Adar I 5779
Today's Calendar
Amud Yomi

: 6:15a
Shacharit

: 6:45a
Maariv

: 7:30p
---
Tomorrow's Calendar
Amud Yomi

: 6:15a
Shacharit

: 6:45a
Maariv

: 7:30p
---
Friday Night
Candle Lighting

: 5:13p
Mincha

: 5:15p
Shabbat Day
Amud Yomi

: 8:30a
Shacharit

: 9:00a
Mincha

: 5:15p
Havdalah

: 6:16p
Parshat Ki Tisa
Candle Lighting
Havdalah
Motzei Shabbat, Feb 23, 6:16p
Purim Katan
View Calendar
Tue, February 19 2019 14 Adar I 5779